Q&A: Omar al-Waili, director of the Iraqi Border Ports Commission
With shake-ups at Iraqi border ports, the Kadhimi administration is trying to combat corruption, increase revenues, and reinforce federal government authority.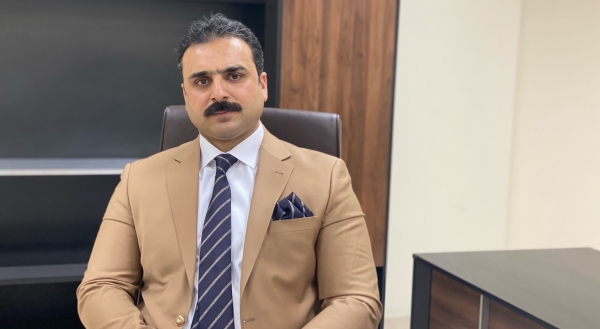 Omar al-Waili, director of the Iraqi Border Ports Commission. (LIZZIE PORTER/Iraq Oil Report)
BAGHDAD - One of Iraqi Prime Minister Mustafa al-Kadhimi's signature initiatives has been a campaign to reduce corruption and reinforce government authority at the country's border ports.
The effort could have wide-ranging consequences. If the state can come close to securing all of the customs revenue generated from Iraqi imports, it would not only help address a dire financial crisis but also deprive armed groups and criminal gangs of a major source of funding and power.
As the director of the Iraqi Border Ports Commission, Omar al-Waili is overseeing the campaign. In an interview with Iraq Oil Report in Baghdad, he said the results so far are encouraging.
"In 2020 we managed to achieve revenues of 1.194 trillion Iraqi dinars [$1.01 billion]," he said. "The increase that was achieved is about 71.5 billion dinars [$60 million], despite the coronavirus pandemic, the curfew, and economic challenges."
Waili said he has ordered a series of changes that have contributed to the improvements: dismissing chiefs at Basra's Umm Qasr port, whom he described as "corrupt," deploying new security forces under the Joint Operations Command to border crossings, increasing inspections and auditing, and ensuring that security forces don't stay in one place long enough to become co-opted by corrupt actors.
He conceded that border crossings remain a point of contention with the Kurdistan Region of Iraq, however. The semi-autonomous region controls Iraq's official border crossing with Turkey, Ibrahim Khalil, as well as the Haji Omran, Bashmakh and Parwezkhan crossings with Iran; those ports do not come under al-Waili's field of responsibility.
Below is a full transcript of the interview.
This content is for
registered users
. Please
login
to continue.
If you are not a registered user, you may purchase a
subscription
or sign up for a
free trial
.
Iraq Oil Report Attribution Policy
All sources quoted or referenced spoke to Iraq Oil Report directly and exclusively, unless stated otherwise. Iraq Oil Report typically grants anonymity to sources that can't speak without risking their personal safety or job security. We only publish information from anonymous sources that we independently corroborate and are important to core elements of the story. We do not provide anonymity to sources whose purpose is to further personal or political agendas.
Iraq Oil Report Commitment to Independence
Iraq Oil Report strives to provide thoroughly vetted reporting and fair-minded analysis that enables readers to understand the dynamic events of Iraq. To meet this goal, we always seek to gather first-hand information on the ground, verify facts from multiple angles, and solicit input from every stakeholder involved in a given story.
view our independence as an integral piece of our competitive advantage. Whereas many media entities in Iraq are owned or heavily influenced by political parties, Iraq Oil Report is wholly owned by several of its employees. In a landscape that is often polarized and politicized, we are able to gather and corroborate information from an unusually wide array of sources because we can speak with all of them in good faith.
fund this enterprise, Iraq Oil Report depends on revenue from both advertising and subscriptions. Some of our advertisers and subscribers ‐ including companies, governments, and NGOs ‐ are also subjects of our reporting. Consistent with journalistic best practices, Iraq Oil Report maintains a strict firewall that removes business considerations from editorial decision-making. When we are choosing which stories to report and how to write them, our readers always come first.