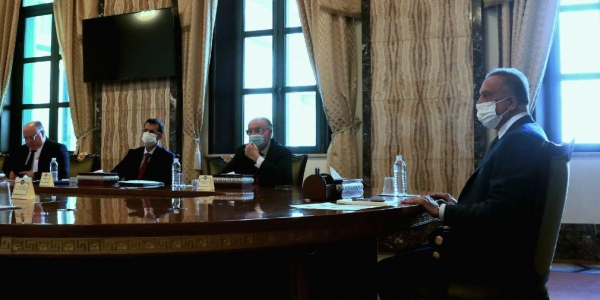 Cabinet considers new borrowing legislation to fund massive deficits after political headwinds stopped attempts to pass a full 2020 budget.
Oil Ministry effort to scale down payment obligations could cause conflict with IOCs and discourage new energy investment.

When Mustafa al-Kadhimi took office, the U.S. granted Iraq a relatively long 120-day Iran sanctions waiver. That diplomatic honeymoon could be ending.
Iraq's ports company chief talks about post-Beirut security, a tanker dispute with the Basra Oil Company, and managing the risk of coronavirus to his company.

The World Health Organization is still guardedly optimistic Iraq can avoid a coronavirus catastrophe, despite Iraq's poor mask compliance and perhaps premature end to its lockdown.
Energy
More in Energy

New leadership for Iraq's largest state-run oil company, as well as the Iraqi Drilling Company and the Oil Ministry's Technical Directorate.
Politics
More in Politics

As a new member of the COVAX facility, Iraq secures access to future vaccines — but in the meantime, other measures are needed to avoid a winter spike.
Security
More in Security
Power struggles between factionalized security forces in northern Iraq have left security gaps that insurgents continue to exploit.