New tariffs choke Basra commerce, prompt protests
Iraq's nascent efforts to raise customs revenue seem to backfire as importers slow trade into Basra and merchants protest.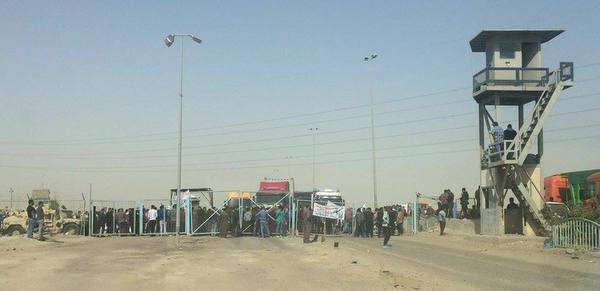 Truck drivers and other demonstrators block a gate at Um Qasr port on Feb. 8, 2016. (ALI AL-AQILY/Iraq Oil Report)
BASRA - The flow of trade into Basra has slowed and hundreds of people over the past two weeks have taken to the streets in protest after the federal government imposed higher customs tariffs.
On Jan. 18, the government began enforcing a customs law, which was ratified back in 2010 but was previously not implemented. Importers who had been used to paying a tax of between 3 to 5 percent of the value of their goods suddenly saw those rates skyrocket, threatening their profit margins and causing some to take their trade elsewhere.
This content is for
registered users
. Please
login
to continue.
If you are not a registered user, you may purchase a
subscription
or sign up for a
free trial
.