Q&A: Oil Minister Ihsan Ismaael
Iraq's oil chief discusses negotiations with Total and Chevron, arbitration with Exxon, the future of INOC, several gas project updates, and budget talks with the Kurdistan region.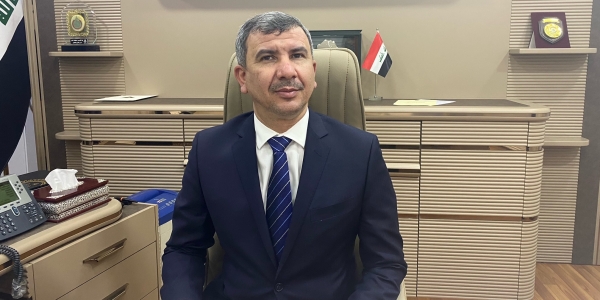 Iraqi Oil Minister Ihsan Ismaael in his office in Baghdad on Feb. 8, 2021. (LIZZIE PORTER/Iraq Oil Report)
WASHINGTON - The clock is ticking for Iraq's Oil Ministry to conclude some major strategic initiatives before October's national elections begin to dominate the agenda in Baghdad.
One consequential yet unfinished deal is a multi-faceted project with France's TotalEnergies worth $28 billion over 50 years, which would involve gas capture, upstream development, treatment and transport of water for use at southern oil fields, and Iraq's first solar power plant.
Another priority has been the formation of the Iraqi National Oil Company (INOC), which was initiated in 2018 but stalled in the face of legal challenges. The new company could fundamentally restructure the oil sector: INOC aims to take over direct management of state oil companies, while the Oil Ministry is supposed to step back into more of a regulatory role.
The ministry is also contending with frustrated international oil companies (IOCs) that have been squeezed by the tough financial terms of Iraq's technical service contracts (TSCs) as well as low oil prices and production curtailments associated with OPEC-plus cuts. ExxonMobil recently filed for arbitration over its efforts to leave the West Qurna 1 field, after the Oil Ministry rejected its efforts to sell its share to Chinese companies.
Oil Minister Ihsan Ismaael discussed these topics and more in an interview with Iraq Oil Report in Washington, DC, where a delegation led by Prime Minister Mustafa al-Kadhimi met with U.S. President Joe Biden at the White House, and where senior Iraqi leaders held meetings with their counterparts in the U.S. government and with private sector executives.
This content is for
registered users
. Please
login
to continue.
If you are not a registered user, you may purchase a
subscription
or sign up for a
free trial
.