Cabinet files legal challenge to 2021 budget
Kadhimi's government is seeking to strike down budget provisions added by Parliament, including new financial rules for state-owned oil companies and fuel import taxes.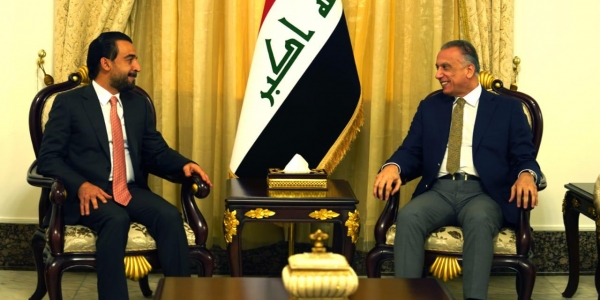 Then Prime Minister-designate Mustafa al-Kadhimi (right) meets with Parliament Speaker Mohammed al-Halbousi on May 4, 2020. (Source: Iraqi Prime Minister's media office)
BAGHDAD - The Iraqi Cabinet has filed a legal challenge to the 2021 federal budget law — a sign of the deep political dysfunction that is hindering attempts at economic reform and coherent management of public finances. 
In a detailed complaint to the Federal Supreme Court, a copy of which was obtained and verified as authentic by Iraq Oil Report, the Cabinet says it opposes six articles in the 2021 federal budget law, which was eventually passed two months ago after an extended delay.
This content is for
registered users
. Please
login
to continue.
If you are not a registered user, you may purchase a
subscription
or sign up for a
free trial
.