Q&A: Oil Minister Ihsan Ismaael
Gas and refining sector developments are a priority this year, but Iraq is also looking to settle longstanding disputes with the Kurdistan region and Turkey.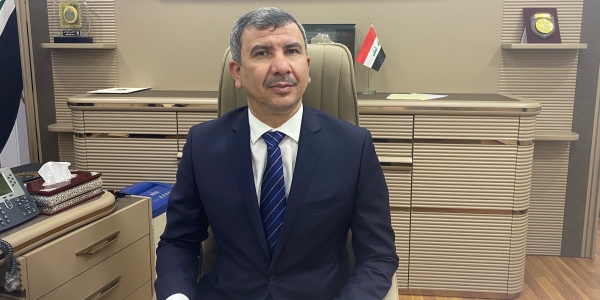 Iraqi Oil Minister Ihsan Ismaael in his office in Baghdad on Feb. 8, 2021. (LIZZIE PORTER/Iraq Oil Report)
BAGHDAD - Iraq is pushing forward with key gas sector developments as well as increasing refining capacity – with the aim to cut energy imports in half by the end of 2021, Oil Minister Ihsan Ismaael said.
In an interview at his Baghdad office, Ismaael said the long-sought objective of bringing new investors to both Mansuriya and Akkas gas fields is nearing a breakthrough, while discussions for a potential gas hub at Ratawi now center around three companies: Honeywell, Lukoil and Total.
Ismaael – who previously headed the South Gas Company and then the Basra Oil Company – took the post of Oil Minister in Mustafa Kadhimi's cabinet in June 2020, as Iraq was in the midst of contending with an oil price crash and navigating an increasingly strict OPEC-plus quota.
With oil revenue constituting the vast majority of Iraq's income, Ismaael found himself caught between domestic pressure to maximize oil revenue to combat Iraq's pressing financial crisis, and external pressure from Saudi Arabia to abide by production cuts to shore up global oil markets. The production issue remains at the fore, and Ismaael said Iraq will make good on its quota commitments, but said the Kurdistan Regional Government (KRG) needs to participate.
Oil and revenue disputes with the KRG – an issue that Ismaael's last five predecessors have also dealt with – are also front-and-center: the 2021 budget remains hung up on the oil-for-revenue sharing scheme, and the KRG's independent export system is the crux of Baghdad's multi-billion dollar arbitration case against Turkey. Ismaael has already invited the KRG's new Minister of Natural Resources – Kamal Atroshi, who Ismaael speaks highly of – to Baghdad "to sit together to discuss how we can make our future relations healthier and more cooperative."
Ismaael also discussed the delay in signing contracts from the fifth bidding round, gas cooperation with the KRG, and various options for financing needed oil and gas sector developments.
This content is for
registered users
. Please
login
to continue.
If you are not a registered user, you may purchase a
subscription
or sign up for a
free trial
.