Q&A: PUK Co-President Lahur Talabany
The co-leader of Kurdistan's second-largest party discusses politicized oil policies, factionalized leadership, security risks, and Iraq's national budget.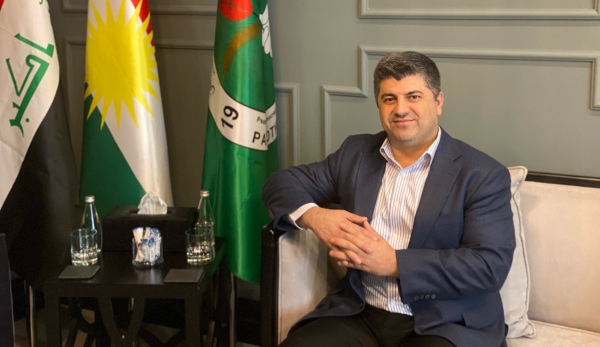 PUK Co-President Lahur Talabany at the PUK Guesthouse in Sulaimaniya city in March 2021. (LIZZIE PORTER/Iraq Oil Report)
SULAIMANIYA - Gas field development "is the future" of the energy sector for the semi-autonomous Kurdistan Regional Government (KRG), according to Lahur Talabany, co-president of the Patriotic Union of Kurdistan (PUK) political party.
There is also significant room for cooperation with Baghdad on a range of energy and security issues, he said, including the creation of a Kurdistan National Oil Company within the future framework of a prospective Iraqi National Oil Company. That new paradigm could help the region respond to the financial and political upheaval of recent years.
"I believe a strategic fix for us is to reach a deal with Baghdad to create something new," he said.
Talabany became co-chair of the PUK in February 2020, along with his cousin Bafel Talabani. The PUK is one of the two dominant political parties in the Kurdistan region, exercising de facto control over Sulaimaniya province and serving as junior partner in a power-sharing agreement with the Kurdistan Democratic Party (KDP) to govern the KRG.
In an interview with Iraq Oil Report at the PUK Guesthouse in Sulaimaniya city, Talabany said the KRG's first priority with Baghdad should be to reach an agreement over revenue sharing in the 2021 budget law, which is currently being debated in the federal Parliament.
He also confirmed that the PUK, which has historically had a say in choosing one federal deputy oil minister, has put forward a candidate — Izzat Sabir — to fill a vacant post following the retirement of Motasam Akrm. The nomination is awaiting Iraqi Prime Minister Mustafa al-Kadhimi to sign off on a final decision.
Another PUK member, Ahmed Mufti, has been approved as deputy minister in KRG's Ministry of Natural Resources, Talabany said.
As co-founder of Kurdistan's counter-terrorism force, Talabany also has a top-level view of several important security issues. He detailed how the international coalition to fight the self-proclaimed Islamic State (IS) group is pressuring the KRG to integrate Peshmerga units historically affiliated with the PUK and the KDP under a unified and de-politicized command structure. And he highlighted stark examples of how party rivalries and "personal issues" are still taking priority over institutional coherence.
This content is for
registered users
. Please
login
to continue.
If you are not a registered user, you may purchase a
subscription
or sign up for a
free trial
.
Iraq Oil Report Attribution Policy
All sources quoted or referenced spoke to Iraq Oil Report directly and exclusively, unless stated otherwise. Iraq Oil Report typically grants anonymity to sources that can't speak without risking their personal safety or job security. We only publish information from anonymous sources that we independently corroborate and are important to core elements of the story. We do not provide anonymity to sources whose purpose is to further personal or political agendas.
Iraq Oil Report Commitment to Independence
Iraq Oil Report strives to provide thoroughly vetted reporting and fair-minded analysis that enables readers to understand the dynamic events of Iraq. To meet this goal, we always seek to gather first-hand information on the ground, verify facts from multiple angles, and solicit input from every stakeholder involved in a given story.
view our independence as an integral piece of our competitive advantage. Whereas many media entities in Iraq are owned or heavily influenced by political parties, Iraq Oil Report is wholly owned by several of its employees. In a landscape that is often polarized and politicized, we are able to gather and corroborate information from an unusually wide array of sources because we can speak with all of them in good faith.
fund this enterprise, Iraq Oil Report depends on revenue from both advertising and subscriptions. Some of our advertisers and subscribers ‐ including companies, governments, and NGOs ‐ are also subjects of our reporting. Consistent with journalistic best practices, Iraq Oil Report maintains a strict firewall that removes business considerations from editorial decision-making. When we are choosing which stories to report and how to write them, our readers always come first.