Exclusive: the Shell gas deal contract
As the multi-billion-dollar natural gas joint venture awaits Cabinet approval, Iraq Oil Report publishes the draft contract.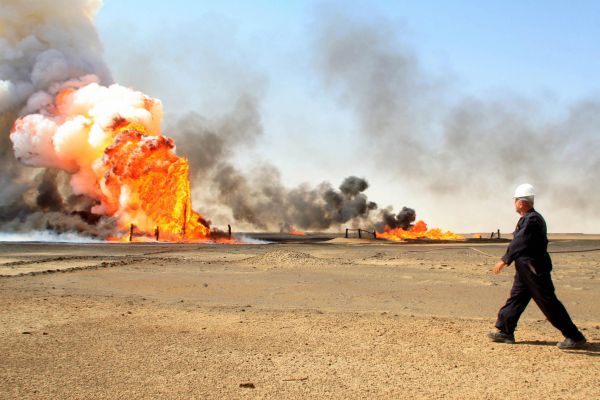 Fire and smoke rise from the super-giant Rumaila oil field. Due to lack of infrastructure, Iraq currently burns 700 million standard cubic feet per day of natural gas, which is generated as a byproduct of crude oil production in southern Iraq. A prospective joint venture between Iraq's South Gas Company, Royal Dutch Shell, and junior partner Mitsubishi, would seek to capture, process, and sell the associated gas from three fields, including Rumaila. (ESSAM AL-SUDANI/AFP/Getty Images)
Shell's massive deal to capture and sell natural gas in southern Iraq has sparked an evolving debate. When the joint venture was first announced in September 2008, critics complained of the secret and noncompetitive negotiations that led to the deal; now, the central question is whether Iraq is getting good enough terms.
What is not debatable is the cost of doing nothing. Iraq's southern oil fields currently generate huge volumes of natural gas as a byproduct of crude production, and due to a historical lack of investment and infrastructure, the country currently flares 700 million standard cubic feet of this associated gas every day.
Setting this gas on fire is bad for the health of Iraqis and the country's environment, and it's also a waste of money. The gas itself is worth an estimated $5 million per day, and Shell estimates it could fuel 4.5 gigawatts of electricity generation – more than half of Iraq's current capacity and enough to save the country $4 billion that it currently spends on non-gas electricity feedstock.
As an alternative to flaring, Iraq's state-run South Gas Company (SGC) would team up with Shell and junior partner Mitsubishi to form the Basra Gas Company (BGC), which would be responsible for building up the infrastructure to capture, process and ultimately sell associated gas from three of Basra's biggest oil fields.
"Now we are importing gas from Iran and flaring gas in the south," Adnan Janabi, the chairperson of the Parliament Oil and Energy Committee, said at the Iraq 2011: Future Energy conference in Istanbul. "We have no excuse for it."
The draft contract that would form the BGC now stands before the Cabinet, which will soon decide whether to go ahead with the deal.
"It is really very necessary to get this project going," said Hans Nijkamp, Iraq country manager for Shell.
The joint venture has been delayed by disputes over both the deal's opaque history and its terms. Iraqi and Shell officials have butted heads over issues including the appropriate return on investment and the rights and prerogatives for natural gas exports.
"If you hold the deal up against the light and look at it, you'll find it's a balanced deal," said Nijkamp. "It's the quickest way to stop flaring and provide gas for power generation."
Until now, such a clear-sighted evaluation has been difficult because the details of the deal have remained secret. Public discussion has been based on statements characterizing the terms of the deal, rather than the contract itself.
Iraq Oil Report has obtained a copy of the draft contract. In service of transparency and an accurate dialogue, we now publish both the Basra Gas Development Agreement and the Basra Gas Company Shareholder's Agreement in full.
Iraq Oil Report Attribution Policy
All sources quoted or referenced spoke to Iraq Oil Report directly and exclusively, unless stated otherwise. Iraq Oil Report typically grants anonymity to sources that can't speak without risking their personal safety or job security. We only publish information from anonymous sources that we independently corroborate and are important to core elements of the story. We do not provide anonymity to sources whose purpose is to further personal or political agendas.
Iraq Oil Report Commitment to Independence
Iraq Oil Report strives to provide thoroughly vetted reporting and fair-minded analysis that enables readers to understand the dynamic events of Iraq. To meet this goal, we always seek to gather first-hand information on the ground, verify facts from multiple angles, and solicit input from every stakeholder involved in a given story.
view our independence as an integral piece of our competitive advantage. Whereas many media entities in Iraq are owned or heavily influenced by political parties, Iraq Oil Report is wholly owned by several of its employees. In a landscape that is often polarized and politicized, we are able to gather and corroborate information from an unusually wide array of sources because we can speak with all of them in good faith.
fund this enterprise, Iraq Oil Report depends on revenue from both advertising and subscriptions. Some of our advertisers and subscribers ‐ including companies, governments, and NGOs ‐ are also subjects of our reporting. Consistent with journalistic best practices, Iraq Oil Report maintains a strict firewall that removes business considerations from editorial decision-making. When we are choosing which stories to report and how to write them, our readers always come first.