Q&A: Deputy Prime Minister and Finance Minister Ali Allawi
Iraq's top economic and energy leader discusses OPEC policy, forward oil sales, gas projects, economic reforms, and more.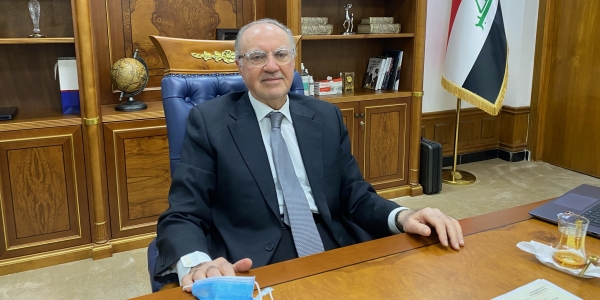 Iraqi Finance Minister and Deputy Prime Minister for Economic Affairs Ali Allawi in his office on Feb. 4, 2021. (LIZZIE PORTER/Iraq Oil Report)
BAGHDAD - Despite a rise in oil prices that has recently eased some of the immediate pressure on Iraq's finances, the country continues to face a deep economic crisis, with the government struggling to meet its spending commitments while adhering to oil production cuts imposed by OPEC-plus.
The man in charge of this balancing act is Ali Allawi. Not only does he lead the Finance Ministry, but as deputy prime minister he also has overarching responsibility for the energy portfolio.
In an interview with Iraq Oil Report at his office in Baghdad on Thursday, Allawi said Iraqi officials are working on a new proposal for how OPEC should distribute future cuts among member states to ease the pain of countries like Iraq that are especially reliant on revenues from crude sales.
"There are probably about 20 to 25 variables that go into it — and they should be properly weighted, so that the cutbacks are allocated in an equitable way," Allawi said. "Perhaps during this cycle it might not be possible or appropriate to raise this, but... it should be looked at in a fundamental way, so we set the stage for a much more equitable distribution of the burden in future cutbacks."
Managing the effects of OPEC-plus cuts with vast spending commitments means Iraq is using various financial tools and strategies to try to boost revenues.
Allawi warned that Iraq needs to be cautious about taking advance payments for future oil exports, following Iraq's deal with China's ZhenHua to pay up front for about $2 billion of exports. While Allawi said that such deals present "an interesting diversification opportunity" so long as they are "used moderately and absolutely where necessary," he also appeared to cast doubt on Iraq's ability to meet the terms that buyers might be demanding.
"The main issue for us as the Ministry of Finance is that we're not prepared to give a sovereign guarantee to future deliveries," Allawi said. "There may be other forms of performance guarantees that don't have a sovereign aspect to it — they may be looked into — but generally I think where these proposals fall flat is when they demand a sovereign guarantee."
Iraq has yet to pass a 2021 budget, with major divisions around the budget allocation for the Kurdistan Regional Government (KRG). Allawi conceded that "fudging' may be required to pass a spending plan acceptable by all parties — or that the KRG representatives in the federal Parliament may refuse to vote through the spending plan.
Allawi also spoke with Iraq Oil Report about high-priority projects to increase the capture and processing of associated gas that is generated as a byproduct of crude oil production, as well as the status of a detailed roadmap to institute "root and branch" economic reforms.
This content is for
registered users
. Please
login
to continue.
If you are not a registered user, you may purchase a
subscription
or sign up for a
free trial
.
Iraq Oil Report Attribution Policy
All sources quoted or referenced spoke to Iraq Oil Report directly and exclusively, unless stated otherwise. Iraq Oil Report typically grants anonymity to sources that can't speak without risking their personal safety or job security. We only publish information from anonymous sources that we independently corroborate and are important to core elements of the story. We do not provide anonymity to sources whose purpose is to further personal or political agendas.
Iraq Oil Report Commitment to Independence
Iraq Oil Report strives to provide thoroughly vetted reporting and fair-minded analysis that enables readers to understand the dynamic events of Iraq. To meet this goal, we always seek to gather first-hand information on the ground, verify facts from multiple angles, and solicit input from every stakeholder involved in a given story.
view our independence as an integral piece of our competitive advantage. Whereas many media entities in Iraq are owned or heavily influenced by political parties, Iraq Oil Report is wholly owned by several of its employees. In a landscape that is often polarized and politicized, we are able to gather and corroborate information from an unusually wide array of sources because we can speak with all of them in good faith.
fund this enterprise, Iraq Oil Report depends on revenue from both advertising and subscriptions. Some of our advertisers and subscribers ‐ including companies, governments, and NGOs ‐ are also subjects of our reporting. Consistent with journalistic best practices, Iraq Oil Report maintains a strict firewall that removes business considerations from editorial decision-making. When we are choosing which stories to report and how to write them, our readers always come first.